The second annual Monster Energy's Aftershock Festival has expanded to a full weekend in 2013. The biggest weekend in rock to EVER hit the capital of California will take place September 14 and 15 at Discovery Park near downtown Sacramento, CA.
Northern California's biggest summer rock 'n' roll festival will feature two main stages, with rare area headlining appearances from Avenged Sevenfold and Korn, and Five Finger Death Punch.
Monster Energy's Aftershock Festival will include a massive rock lineup, also withShinedown, Megadeth, Papa Roach, Volbeat, A Day To Remember, HIM, Skillet, Buckcherry,Halestorm, Asking Alexandria, In This Moment, All That Remains, Falling In Reverse, Device, Steel Panther, P.O.D., Pop Evil, Otherwise, Airbourne, SOiL, Heaven's Basement, Nothing More, and many others.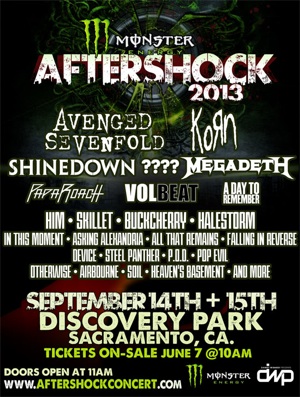 "After last year's success at Discovery Park, the commitment from Mike Testa of Sacramento Convention & Visitors Bureau and the city, we believe Sacramento is a great home to build a multi-day destination music festival. I am excited to bring the biggest rock show in the past few years to the region," says festival creator/producer Danny Wimmer of Danny Wimmer Presents.

"The economic impact tied to festivals of this magnitude is significant," said Mike Testa, senior vice president for theSacramento Convention & Visitors Bureau. "For this year's two-day event, when consumed hotel rooms and visitor spending and local attendance are factored in, we expect the economic impact to be the equivalent of a city-wide convention for Sacramento. That number is in the millions financially."

Monster Energy's Aftershock Festival is produced by Danny Wimmer Presents, producer of Welcome To Rockville in Jacksonville, FL, and a partner in the biggest rock festivals in America, including Rock On The Range in Columbus, OH, Carolina Rebellion in Charlotte, NC, Epicenter—Southern California's Rock Festival, as well as the Rock Allegiance Tour.
www.AftershockConcert.com